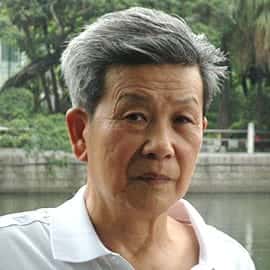 Dr. Zeng Rongxiu (1931- 2012) started his career in the military and graduated in 1949 with the 23rd class of the Huangpu Military Academy, China's most prestigious officer school. During the many tumultuous years of China's political movements, he was forced to fight in the Korean War in 1952. After his return from the war in 1958, he became a teacher at the 18th Beijing Middle School. In 1959 he started his career in healthcare as secretary-general at the West China Health Science University in Chengdu, China. It was at this time that Dr. Zeng met his master Dr. Tian Heming, also known as Tian Bawei, whom he started to follow in clinic for a number of years. Dr. Tian was a renowned Shanghan Lun specialist and instructed Dr. Zeng for years in the clinical application of the canonical formulas.
In 1972, Dr. Zeng started his own medical profession as a staff physician at the Chengdu Seventh People's Hospital. In 1975 he returned to the Chinese medicine department of the West China Health Science University for half a year of continuing education. In 1979, China instituted its national medical board licensing exam, in which Dr. Zeng partook and was conferred a medical license, after which in 1987 he was promoted to Chief Physician just before his retirement in the same year.
In the eighties, Dr. Zeng published a number of short but influential clinical case studies, respectively: "The Treatment of Two Cases of Aplastic Anemia" (1985); "The Treatment of Infantile Pigeon Chest" (1985); "Tiaowei Chengqi Tang and the Treatment of Pertussis" (1985) and "The Treatment of Acute Bilateral Post-Partum Blindness" (1986).
In 1994, Dr. Zeng was invited to the National College of Naturopathic Medicine (NCNM) in Portland, Oregon, where he participated in teaching, research and clinical work. While in Portland, Dr. Zeng also worked at the Institute of Traditional Medicine (ITM) Immune Enhancement Program (IEP) where he mostly treated and researched HIV-Aids patients with Shanghan Lun formulas. Between 1994 and 1996, Dr. Zeng visited the United States multiple times to conduct his teaching and research activities. In August of 1996, Dr. Zeng returned to China where he continued his part-time medical practice. From 1999 to 2000, upon invitation and appointment by the Guangxi College of Chinese Medicine, Dr. Zeng worked as a professor and engaged in both teaching and clinical work.
In 1999, Dr. Zeng met Dr. Versluys, who had just moved to Chengdu to pursue graduate medical school. He accepted Dr. Versluys as his disciple and from the winter of 1999 until the summer of 2002, he taught Dr. Versluys in clinic and transmitted his art and knowledge of the canonical formulas. In 2003, Dr. Versluys moved to Portland, Oregon to take up a professorship at NCNM. In 2005, Dr. Zeng moved to Los Angeles, California, where he joined his daughter Zeng Hua, and her husband, both physicians, to spend his retirement years.
Between 2008 and 2012, Dr. Zeng was the Honorary Director of the Institute of Classics in East Asian Medicine, and under its auspices taught seminars and presided over three annual Shanghan Lun conferences, held in Portland, OR. Dr. Zeng died in Orange County, CA on the evening of December 13, 2012. Before his passing, Dr. Zeng passed the leadership of his lineage to his main disciple, Dr. Arnaud Versluys, and instructed his wife, Mrs. Wang Peixiu, to pass all his personal writings, as well as all Tian lineage materials onto his disciple and the Institute of Classics in East Asian Medicine, where his legacy is now secured for posterity.