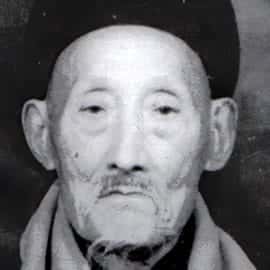 Tian Heming 田鶴鳴, was born in 1883 in the town of Jianyang 簡陽 in Sichuan province, China. His birth name was Tian Qishang 田啟上, but he later adopted his older brother's clinical moniker and started practicing under the studio name Tian Bawei 田八味, or Eight Ingredient Tian. He practiced medicine professionally in Chengdu nearby the Qingyang Temple in the area known as the Xie Family Shrine xiejia chi 謝家祠. He died peacefully at his home in Chengdu in 1980, enjoying the age of 97 years, during which he practiced medicine for over 70 years. He is the patriarch of the Tian Lineage.
His elder brother Tian Qitai 田啟泰 was a Confucian scholar-physician in Jianyang, Sichuan, who treated disease exclusively with Shanghan formulas. He was locally famous. Dr. Tian Heming inherited his skill, excelled at it, and improved upon it, treating any and all conditions with exclusively Zhang Zhongjing formulas. He moved around the end of the Qing dynasty, near the beginning of the Republic of China, from Jianyang to Chengdu, where he ultimately would see up to 300 patients every day. He worked tirelessly through China's tumult in the 1950's, 60's and 70's. The Tian family style of Chinese medicine is especially known for its advanced and intricate system of pulse diagnosis for canonical formulas.
Dr. Tian Heming trained many great physicians, most notably Dr. Zeng Bihui 曾碧輝, the elder sister of our late master, former honorary director of ICEAM, and important Tian lineage holder, Dr. Zeng Rongxiu 曾榮修. Other Tian disciples and lineage holders include Dr. Tian's daughter, Tian Yuxia 田玉俠, the late Dr. Zheng Guanglu 鄭廣露, and Dr. Tian's sole surviving disciple Dr. Huang Xuan 黃旋.