Director, Frankfurt Institute of Classics in East Asian Medicine
dberein@frankfurt.iceam.org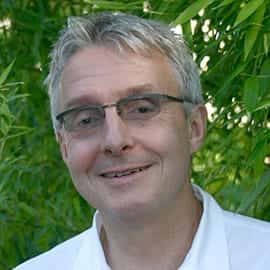 Mr. Berein was born in Düsseldorf, Germany. After high school he worked some time as a hospital nurse. He then continued to study pedagogy, client-centered therapy by Carl Rogers, and law. He consecutively graduated from the University of Frankfurt with a degree in education.
In 1983 he started his study of naturopathy from which he graduated in 1986 and received his license. He then continued his study of acupuncture and herbs through the Professional Organization of Classical Acupuncture and Traditional Chinese medicine (Arbeitsgemeinschaft für Klassische Akupunktur und TCM e.V., AGTCM) affiliated school in Bocchum. In 1987, Dirk married and in 1990 his son Felix was born of whom he took care as a stay-at-home dad for a period, which he enjoyed greatly.
Between 1988 and 1994, he worked as an acupuncture instructor at the naturopathic school in Hochheim/hessen. In 1993, he founded the Central Professional Region (Arbeitskreis Mitte) of the professional organization AGTCM, over which he presided until 2001.
In 1994, Dirk gathered a group of colleagues and founded the Central German Training Center (Ausbildungszentrum Mitte, ABZ) as a cooperation school of the AGTCM to offer accredited education in acupuncture and herbs in the Rhein-Main region. Dirk has directed the ABZ ever since. He has been in private medical practice since 1987 in Offenbach, outside of Frankfurt.
Since 2005, he has been inviting Dr. Versluys to offer quality courses at the ABZ-Mitte, and this cooperation and trust culminated in 2008 with the founding of the Frankfurt Institute of Classics in East Asian Medicine, which is the exclusive institute in charge of the German-speaking region of Europe (Germany-Austria-Switzerland).